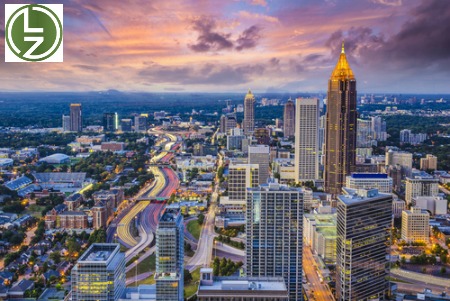 Holding the distinction of being the most populated county in the state, Fulton County is home to approximately 1,010,562 Georgia residents. When you consider the 529 square miles of land area and the current population, this county has a population density of 1,885 people per square mile. Atlanta is the county seat.
Adjacent counties include Gwinnett County to the east, Clayton County to the south, and Douglas County to the west. Other nearby counties include Cherokee County to the northwest, Forsyth County to the northeast, DeKalb County to the east, Gwinnett County to the east, Coweta County to the southwest, Carroll County to the west, and Cobb County to the west.
With over a million residents to get to and from work and play, the consistency and stability of transportation are top priorities in Fulton County. The Metropolitan Atlanta Rapid Transit Authority (MARTA) provides train and bus services within the county. Those traveling by air have access to Hartsfield-Jackson Atlanta International Airport and the Fulton County Airport. Major highways include Interstate 20, Interstate 75, Interstate 85, and Interstate 285.
Fulton County School System serves the students of this county. Students in Atlanta enroll in Atlanta Public Schools. The Fulton County School System has school districts called clusters. There are currently 14 active clusters in the system. Fulton County School System's 99 schools enroll 94,000 students annually.
Wondering about the weather in Fulton County? The average high temperature is 89 degrees in July. The average low temperature is 34 degrees in January. This area receives 49.74 inches of rain annually. The month with the most precipitation is July.
Your real estate agent is the best source of information about the local community and real estate topics. Give Leslie Zweben a call today at 404-425-3302 to learn more about local areas, discuss selling a house, or tour available homes for sale.